Top Shelf Event Staffing & Beverage Services


Thank you for visiting our site. We are proud to be Santa Barbara's only local choice for event staffing. Over the past 10 years it has been our pleasure to be part of helping to make over 300 weddings a moment to remember. We have had the pleasure of sharing in countless private estate events here in the Santa Barbara region. We and our staff have had a great time volunteering for fundraising events for many of Santa Barbara's most worthy of causes. It has also been an amazing experience working with some for the Unites State's top corporations located right here in the area. So, before you contact an outside company from LA or Thousand Oaks, give us a try. You will not be disappointed.

At Top Shelf, we understand that planning an event is a detailed and labor intensive experience. That is why we strive to make the experience as simple and smooth as possible for you. We are here to help you plan, coordinate, equip, set up, staff, break down, and clean up your event all while keeping your budget in mind. Below are just a few of our past clients experiences.


Please view our Yelp page for more reviews.

http://www.yelp.com/biz/top-shelf-events-staffing-and-bar-rentals-goleta-2


Simply Natural Events

"Jude,I want to thank you on behalf of Simply Natural Events and our entire staff. You and your team were amazing during both shifts. Andi was wonderful during the ceremony and reception and so helpful in every way, we just loved her! We had many great compliments on your staff, and I really appreciate your quick response to our last minute needs. We will definitely utilize your services again it was a pleasure working with you. Best regards"

Isabella Langlois Assistant Events Coordinator Simply Natural Events



Eucalyptus new location open house

"After moving into our new 12,000-sqf offices we decided to have an open house. I had previously had the opportunity to experience Top Shelf's services at Tiffany's event I held so knew the service would be excellent. Jude made the planning easy with his expertise on recommendations for beer and wine to quantities of food as well as the pairings. He was attentive and proactive making my job easy. I got to enjoy the party without a worry! I would thoroughly recommend Top Shelf to anyone having an event!"

Dianna McNeill-Office Manager


Wesley and Robin Reception at the Santa Barbara Zoo

" Hi Jude!... So glad we went with our first impression of you on the phone. We felt just like we were hanging out with an old friend. Can't tell you enough of how much we appreciate all the extra help you gave us; you went way beyond the call of duty. We have had so many compliments from our guest about you. We're sure you make all your customers feel the same way, but you really made us, Robin and Wes and our family feel comfortable and really impressed us. "

Robin and Wesley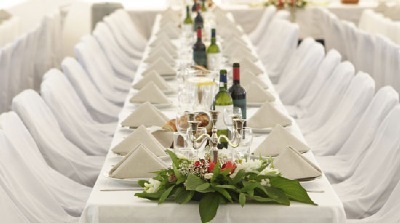 Top Shelf Events, Staffing and Rentals LLC is the elite service for Santa Barbara events. Over fifteen years of experience in the industry of high-end service and complete clientele satisfaction has set Top Shelf apart from the others. At Top Shelf we strive to provide you with service that exceeds your hopes and expectations! Please view our Testimonial Page for past experiences.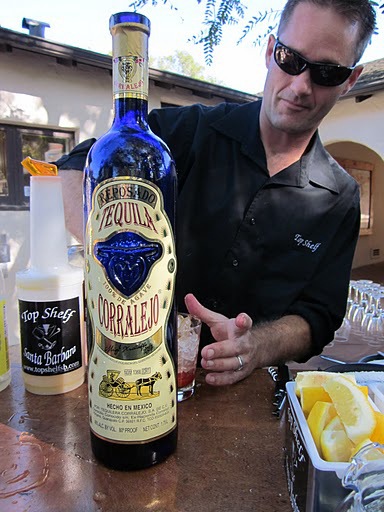 Do you want to supply your own food, but are still in need of the service staff? Look no further. Top Shelf staffs professionally trained event planners, event captains, bartenders, cocktail servers and food service personnel. Whether your event is a discrete, elegant twenty-five person dinner party or a two thousand person reception, choose Top Shelf to supply all of your staffing and bar equipment for a professionally run elegant event. Please see our Event Staffing page for more information about the staffing we provide.

Top Shelf Events, Staffing and Rentals is also the best equipped bar catering company. Top Shelf currently has beautiful, fully functional portable bars all costing the same $200 rental for your entire event (all bar rentals include Coca Cola, Diet Coke, Sprite, Tonic, Soda Water, napkins, straws, ice chill buckets and all necessary bar utensils, price based upon 100 guests in attendance). Nowhere else will you find higher end, better quality, affordable equipment for rent, take a look at our Event Bar Rentals page for more information on our beautiful line of portable bars for your event rental needs. If you would like to have us, send over a rough estimate for your event's needs. Please simply fill out the Free Estimate Form.

It has been our pleasure to work many wonderful events in the Santa Barbara region. We have helped with weddings, birthdays, Bah and Bar Mitzvahs, sweet sixteen, private estate dinner parties, fundraisers, bachelor and bachelorette, and parties for no other reason than the need for a great night amongst close friends and family.

Top Shelf is now offering Professional Mixologist services. Whether you are planning an event, conference, team building course, or own a food and beverage establishment, Top Shelf can help. Please see our Top Shelf Mixology page for more information.

805-450-5660